Toroso
149 Port Rd., Kennebunk
207-204-0454, Torosorestaurant.com
---
By Michaela Cavallaro
Photographed by Meredith Perdue
Like pizza, their Mediterranean neighbor, tapas are a bit of a blank canvas. They can be a lovely little snack, a full meal, or something in between. They can be simple bar food — nuts, olives, meats, and cheeses — or high-concept entrées with complex sauces and layers of flavor. Their origin may be Spanish, but the tapas approach is infinitely adaptable. And that, in a word, is why Shannon Bard likes it. "The key is that it's fresh and creative," she says. "In the U.S., we want to define something as Mexican or Thai. But in Spain, they don't even worry about borders. Almost every tapas restaurant has a hamburger or a Japanese-influenced dish on the menu."
CLICK IMAGES TO EXPAND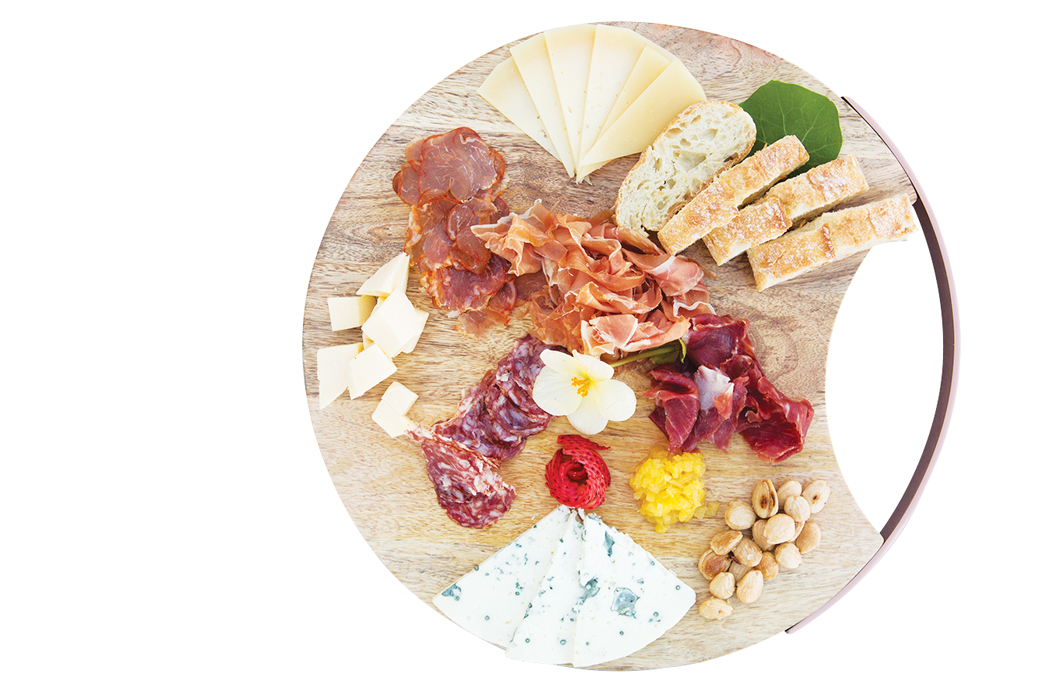 ---
Toroso, Bard's new Kennebunk restaurant, wears its Spanish inspiration proudly, from the legendary jamón ibérico on the Charcuteria y Queso (sliced meats and cheese) portion of the menu to the bacalao and fideos — cod and toasted pasta, respectively — among the entrées. But it also feels free to roam: At peak harvest in early fall, heirloom tomatoes are sliced and served with a mound of creamy burrata. It's a small taste of Italy that fits right in with its culinary surroundings.
As for those surroundings, fully three-quarters of the menu is made up of tapas proper. The half-dozen entrées are uniformly appealing — seriously, could you resist a seared chicken breast with confit rosemary potatoes, truffled tomato juices, and an egg nestled on top? But it's more fun to relax in Toroso's cozy banquettes and order an array of nibbles, bites, and small plates to share. Sure, you could quibble about whether, at this point in the post-foodie era, servers really need to intone that three to five small plates per person are ideal. But the reminder does set some boundaries, and Bard's kitchen is skilled at sending dishes out in a combination and at a pace that makes sense.
We had just the right amount of time, for instance, to sip cocktails and unwind over the charcuterie and cheese plate: three deliciously salty varieties of Spanish pork, including an unusual paprika-cured top loin called cabecero de lomo ibérico, plus a trio of cheeses (one clunker, in our case, and two absolute winners). It's a lovely presentation on a large round board, accompanied by a few pieces of baguette, a handful of Marcona almonds, and a dab of pineapple jam. From there, a parade of interesting nibbles followed: a crunchy cross-section of seared cauliflower with chickpeas and nearly curry-like Moroccan spices; tender lamb meatballs surrounded by a sherry foie gras cream; a stunning single squid, seared and served in a puddle of squid ink sauce alongside a disk of black crab rice.
CLICK IMAGES TO EXPAND
---
These dishes, precisely flavored and only occasionally even moderately spicy, issue from a small open kitchen that overlooks the long end of Toroso's L-shaped main dining room. (The concise dessert menu includes a heavenly olive oil cake with lemon curd — a light, and lightly sweetened, counterpoint to the array of flavors that preceded it.) Throughout the former bookstore, the walls are freshly distressed faux-barnboard, and the tables are dressed in white linens. The sophisticated-rustic style clearly suits Bard; she and her husband, Tom, also own Zapoteca, Portland's high-end Mexican restaurant, which has a similar vibe.
The Bards launched their new restaurant with the idea that it would be a family-run business — without 25 miles between their Kennebunk home and their business, they could see their four kids more often and spend more time as a family (though Shannon and Tom still pull shifts at Zapoteca). The Bards' teenagers wash dishes, bus tables, and cook on the line, and "family meal" — the staff meal before service begins — is often literally the Bards' dinner.
That homey touch extends into the restaurant, where the wine list is unusually accessible. Most bottles are in the $30–$40 range, and a cuvinee system allows the restaurant to offer pricier wines by the glass without fear of spoilage. "Our wine is a very big pour," notes Shannon Bard proudly. "I'm a big wine drinker, and we wanted it to be affordable for people in the area."
Bard's commitment to the Kennebunks' food scene extends to two additional ventures on the premises. She describes Salud Bistro, which opened in October on the building's ground floor, as a playground where she offer dishes ranging from her grandmother's fried chicken to a ramen bowl to "whatever I feel like cooking that day." (She'll also offer cooking classes a few times a week.) Out back, The Barn at the Kennebunks will host weddings and events in an antique post-and-beam barn. "We're trying to add to the food-focused community that already exists here," she says. "It should be not just a meal, but an experience."
---