Manhattan Short Film Festival at The Public Theatre
09.28.18 @ 7:30 pm - 09.29.18 @ 7:30 pm
$8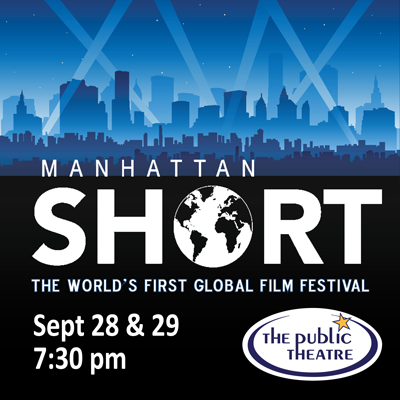 Attention all film lovers and film makers:
Nine short films selected from around the world will screen
in 300 cities on six continents over a one-week period. As an
audience member YOU get to cast your vote for the winner.
Finalists from the festival's history have included nominees
and winner of the Oscar in the short film category, so this is a
unique and exciting opportunity to see the next generation of
feature filmmakers from around the world.
Fri & Sat at 7:30 pm
$8 General Admission
Hearing Assistance and handicapped seating are available upon request.
Run Time: TBA
Showtimes and Tickets
Date Time
Friday, September 28, 2018 7:30 PM
Saturday, September 29, 2018 7:30 PM
Details
Event Category: Film
Online Tickets