October
Go here. Do this. See that.
---
Bumper Crops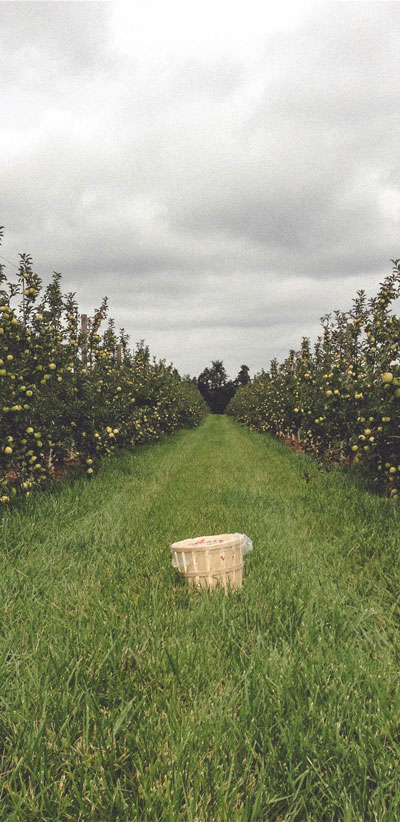 Shaker Village Harvest Festival, Oct. 10
Join the Shakers of Sabbathday Lake to enjoy freshly picked apples from the historic village orchards and try out the cider press (bring your own apples or purchase them there). Also, tractor rides, crafting demonstrations, and more. 10 a.m.–3 p.m. Free. 707 Shaker Rd., New Gloucester. 207-926-4597. maineshakers.com
York Harvestfest, Oct. 17
Face-painting and wagon rides for the kids, the Don Campbell Band and a food and craft fair for adults. 9 a.m.–4 p.m. Free. Short Sands Beach, York Beach. 207-363-4422. yorkharvestfest.com
The Great Maine Apple Day, Oct. 18
The Maine Organic Farmers and Gardeners Association hosts a bushel of workshops extolling the virtues of the tart McIntosh, the ruby Jonamac, the crisp Pippin, and more (including some heirloom varieties you might not know). Plenty of cider and treats. Noon–4 p.m. Non-members $4, members $2. Common Ground Education Center, 294 Crosby Brook Rd., Unity. 207-568-4142. mofga.org
Harvest on the Harbor, Oct. 21-25
The season's bounty comes to Portland's marquee foodie fest. We'll be judging the annual Lobster Chef of the Year competition — tough job, but somebody has to do it. Locations across Portland. Ticket packages and individual event tix at harvestontheharbor.com
Maine Craft Weekend
Oct. 3–4
Maine Craft Weekend is an unholy alliance of craft artists and beer brewers opening doors to their studios, retail shops, and breweries statewide, inviting visitors to glimpse the process (and the care) behind all things handcrafted in the Pine Tree State. See participating vendors and plot a customized itinerary at mainecraftweekend.org
Dracula
Oct. 10
"I never drink . . . wine."
— Actor Bela Lugosi as the silver screen's original blood snob
It's hard to believe that Bram Stoker's Dracula, now a mainstay of gothic horror, received little acclaim upon its publication in 1897. Countless adaptations and spinoffs later, the noble – if not blue-blooded – Transylvanian assumes various guises, some of them far more monstrous than Stoker's depiction. Charles Morey's stage adaptation remains uncommonly true to the original, complete with a nod to the novel's epistolary form. L.A. Theatre Works brings Dracula to life (sort of) this month at the Collins Center for the Arts. Oct. 10. 8 p.m. $33–$38. 2 Flagstaff Rd., Orono. 207-581-1755. collinscenterforthearts.com
Ghostport
Oct. 17
At Bucksport's annual Ghostport celebration, costumed revelers march in the Lil' Goblins Parade, race wheeled coffins, and launch jack-o-lanterns into the Penobscot using the town's own trebuchet. After sunset, fireworks are the prelude for a late-night horror flick at the Alamo Theatre. 10 a.m.–10 p.m. Free. Locations around Bucksport. 207-469-6818. bucksportbaychamber.com
Guitar Gods
Oct. 21
Guitar nerds, take note: Nels Cline and Julian Lage are among the most heralded contemporary axmen, though neither has much name recognition. You might know Cline as guitarist for a little band called Wilco, while Lage is a 26-year-old multi-genre wunderkind. A powerhouse pairing of jazzy, experimental guitar. SPACE Gallery, 538 Congress St., Portland. 207-828-5600. space538.org
Whistler Stop
Through January
James Abbott McNeill Whistler, Gilded Age champion of "art for art's sake," is best known for his acclaimed (and often-parodied) painting of his mother. That painting showed in Massachusetts this summer, but Whistler is the subject of an ongoing double feature at Colby College Museum of Art. Aesthetic Harmonies: Whistler in Context examines Whistler's influences, along with the artists he left a mark on. Whistler and the World highlights paintings, sketches, and prints from the artist's European wanderings. Through January. 5600 Mayflower Hill, Waterville. 207-859-5600. colby.edu/museum
More Maine Things to Do
Expand for additional events we've heard about
No Biz Like Show Biz, Good Theater
Sept. 23 – Oct. 11
Good Theater presents the premiere of an original musical tribute to Mary Martin and Ethel Merman created and directed by Brian P. Allen, with musical direction and arrangements by Victoria Stubbs and starring Marie Dittmer, Lynne McGhee and Jen Means. Performance times are Wednesdays 7:00 ($22), Thursdays 7:00 ($22), Fridays 7:30 ($27), Saturday 3:00* ($27), Saturday 7:30 ($30), Sundays 2:00 ($30). (Saturdays at 3:00 10/3 & 10/10 only) At the St Lawrence Arts Center, 76 Congress Street, Portland. Call 207-885-5883 for reservations and information or goodtheater.com.
Collins Center for the Arts
October Events
Aeolus Quartet
Sunday, Oct. 4, 2015 at 3:00 p.m. in Minsky Recital Hall – Adult $32 / Student $12
Praised by the Baltimore Sun for combining "smoothly meshed technique with a sense of spontaneity and discovery," the quartet is committed to presenting time-seasoned masterworks and new cutting-edge works to widely diverse audiences with equal freshness, dedication, and fervor.
Dracula PRESENTED BY L.A. THEATRE WORKS
Saturday, Oct. 10, 2015 at 8:00 p.m. – $29/$34
Before Twilight and True Blood, only one vampire commanded "the children of the night." Victorian London seems helpless against the frightful power of Count Dracula, and only one man, Dr. Van Helsing, can stop the carnage. But to do this, he must uncover the vampire's lair and pierce his heart with a wooden stake. L.A. Theatre Works' innovative use of technology keeps this venerable art form thriving.
42nd Street, NATIONAL BROADWAY TOUR
Friday, Oct. 16, 2015 at 8:00 p.m. – $29/$43/$57/$65
The quintessential backstage musical comedy classic, 42nd Street, tells the story of a starry-eyed young dancer named Peggy Sawyer who leaves her Allentown home for New York to become a Broadway star. This sparkling new production is directed by co-author Mark Bramble and choreographed by Randy Skinner, the team who staged the 2001 Tony Award-winning Best Musical Revival.
The Met Opera Live in HD! Otello
Saturday, Oct. 17, 2015 at 1:00 p.m. (Live Broadcast) – Adult $23 / Senior $18 / Student $8
The Met season opens with Verdi's masterful opera, inspired by Shakespeare's play and matching it in tragic intensity. Often cited as Italian opera's greatest tragedy, Otello is a miraculous union of music and drama, a masterpiece as profound philosophically as it is thrilling theatrically. Broadcast live in HD by the Metropolitan Opera.
From the Top with host Christopher O'Riley featuring special guest Mark O'Connor
Sunday, Oct. 25, 2015 at 3:00 p.m. – Adult $20/Student $10
NPR'S From the Top With Host Christopher O'Riley is America's largest national platform dedicated to celebrating the stories, talents, and character of classically-trained young musicians. Featuring talented children musicians from Maine in this live production of the critically-acclaimed NPR radio show joined by special guest, Mark O'Connor, world-renowned violinist, composer, and music educator.
The Met Opera Live in HD! Tannhauser
Saturday, Oct. 31, 2015 at 12:00 p.m. (Live Broadcast) – Adult $23 / Senior $18 / Student $8
James Levine conducts Wagner's early masterpiece in its first return to the Met stage in more than a decade. Today's leading Wagnerian tenor, Johan Botha, takes on the daunting title role of the young knight caught between true love and passion.
Castine Pumpkin Fest
Oct. 3
The Town of Castine is pleased to announce the date of its second annual Pumpkin Fest. With Pumpkin-themed activities for the whole family, the festival will be held on Saturday, October 3, 8 a.m. – 4 p.m. The event will kick-off with a pancake breakfast at the Trinitarian Congregational Parish Church. Other activities begin at 10 a.m. and include a pumpkin cooking contest, pumpkin challenge competition for children, pumpkin decorating, face painting, pumpkin growing contest, raffles, and much more. Exquisitely carved pumpkins by The Farming Artists will also be on display. castine.me.us
Rising Tide Brewery at Maine Craft Weekend
Buy a Mug/Borrow a Mug pottery pop-up with Christine Caswell and Meg K Walsh. Beer & Truffle Pairings with La Crème Chocolat. Brewery Tours at 1 p.m., 3 p.m., 5 p.m. Food truck (Rolling Fatties): 12–5 p.m.
Oct. 4, 12–5 p.m.
Meet The Artists pop-up shop with CSArt Maine. Brewery Tours at 1 p.m., 3 p.m. Food truck (CN Shawarma): 12–5 p.m. mainecraftweekend.org
Running with Scissors' Annual Birthday Bash
October 3–4
Help Running with Scissors, Portland's East Bayside artist community, celebrate its birthday with art, ceramics, jewelry, food trucks, and more from noon to 5 p.m. on Saturday, October 3, and at a special ticketed event later that day from 5–10 p.m., featuring music from Blue Bus and Port of Est. Buy a gift from the member artists who will set up booths outside for the event on Sunday, October 4 from noon to 5 p.m. Sunday will also feature special events and entertainment. anntracy.blogspot.com
World-Renowned Cellist Colin Carr, Decompression Chamber Music
Oct. 5
Decompression Chamber Music is now in its seventh successful season at One Longfellow Square. DCM's informal, six-o'clock concerts last about an hour. In a unique integration of musical performance and insights, members of the group give details on the backgrounds of the composers, and demonstrate particulars of each composition, to enhance listeners' experience of the music.
Decompression Chamber Music's next concert is on October 5. This special event will feature renowned cellist Colin Carr, joining the ensemble for Schubert's two-cello String Quintet in C. Colin is recognized world wide as one of the preeminent cellists playing now. This will be Colin's second visit to Portland in the last five years. In 2010 he ran the Maine Marathon, finishing first in his division. onelongfellowsquare.com
Northeast Historic Film hosts Home Movie Day
Oct. 10
Northeast Historic Film will host Home Movie Day on Saturday, October 10 from 12pm-4pm at the Alamo Theatre. Home Movie Day is an annual celebration of amateur film and video held at many different venues worldwide. Home Movie Day events provide the opportunity for individuals and families to see and share their own home movies with an audience of their community on the big screen, if they so choose, and to see their neighbors' in turn. It's a chance to discover why these films are important and to learn how best to care for them. oldfilm.org
The Alison Brown Quartet, The State St. Church
Oct. 10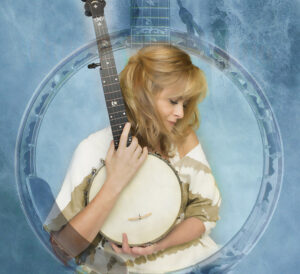 Alison Brown has achieved success in many areas: a Harvard graduate, record label co-founder and owner, mother, and, the role that most people know her in: banjo virtuoso. An internationally recognized musician with a wide-reaching and loyal fan base, Brown first came to national prominence when she was asked by Alison Krauss to join her band Union Station in 1989. Brown had already made a name for herself prior to that by performing extensively with fiddler Stuart Duncan, and on occasional pick-up sessions with artists such as Vince Gill, Byron Berline and John Hickman. heptunesconcerts.com
Gardiner Swine & Stein Oktoberfest
Oct. 10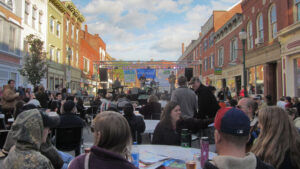 Water Street in historic Gardiner will be transformed as Gardiner Main Street produces its eccentric version of a traditional Oktoberfest. Our 6th annual event includes an oompah band as well as scrumptious pork and other creative culinary dishes, a wide selection of Maine craft beers, and entertainment from some of Maine's best musicians.
The festivities begin at 11:30 a.m. and run through 6:30 p.m. Street vendors from across the state will be teaming up to serve an array of pork-driven dishes, including succulent pulled pork and sausages of all sorts. In addition to beer, pork, and music, experience a number of unique activities, including a rubber chicken fling, frozen T-shirt race, and the 4th annual Maine rock, paper, scissors championship. The annual beard and moustache competition will return for its second year with various categories, including a faux beard making contest for kids. This family-friendly event offers pumpkin painting, a petting zoo and other children's activities. For more information: gardinermainstreet.org/events/swine-and-stein-oktoberfest/
Old Berwick Historical Society: Chefs in the Counting House: Talk, Tales and Chatter from a Trio of Culinary Authors
October and November Dates
October 11, 2 p.m. "Early Maine Food and Herbs"
October 25, 2 p.m. "Canterbury Tales"
November 1, 2 p.m. "Write It All Down"
Monhegan Island Overnight Adventure
Oct. 11–12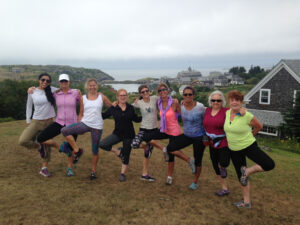 Come out to gorgeous Monhegan Island with Maine Yoga Adventures. We'll be enjoying yoga, hiking, birding, healthy food, evening explorations, and even a martial arts clinic. Bruce Barker, expert birder, will help identify migratory birds and the locals (birds that is); he will also lead participants through a martial arts clinic. Absolutely no experience necessary.
Accommodations will be at the spectacular Island Inn.
Sunday, Oct. 11, 10:30 a.m. – Monday, Oct. 12, 12:30 p.m. Cost: $275. Please go to maineyogaadventures.com for registration and more information or call 207-299-0082.
Wait Until Dark at The Public Theatre
Oct. 16, 17, 18, 22, 23, 24, 25
A heart-pounding new adaptation of a classic thriller! Imagine the suspense of Hitchcock and the fun of an amusement park ride, when a blind, yet capable woman finds herself unknowingly in danger when a group of con-men enter her apartment. Can she outmaneuver her tormentors by turning her disability to her advantage? Public Theatre policy requires you to pay for your entire seat, even though you'll only be using the edge.
Tickets: Call (207)782-3200
Online ticketing: thepublictheatre.org
David Mallet with Full Band
Oct. 17
The cool breezes of Maine's northlands have flowed through the songs of David Mallett for more than four decades. In his lengthy career he has recorded 14 albums, had several hundred covers of his songs, and has appeared on numerous broadcasts, including National Public Radio's A Prairie Home Companion. Known for his carefully written, poetic offerings, his body of work has provided material for an eclectic list of artists that includes Alison Krauss, Pete Seeger, Hal Ketchum, Emmylou Harris, John Denver and the Muppets. For this show he will be backed by a full band for a rare musical experience not to be missed. onelongfellowsquare.com
Oktoberfest at The Velveteen Habit
Oct. 18
The Velveteen Habit will transform its sprawling estate into a biergarten for an Oktoberfest fête. Set in the back garden of the modern farmhouse's property, revelers will have the opportunity to get a taste of Germany – sans passport – with themed fare, local suds, lawn games and traditional tunes.The Velveteen Habit, 37 Ogunquit Road, Cape Neddick, ME 03902 www.TVHoktoberfest.eventbrite.com
Local 188's 16th Anniversary Art Opening
Oct. 20
2015 marks Local 188's, Portland's original small plate gallery/restaurant, 16th anniversary. On October 20, we cordially invite you to celebrate with us as we have a throwback opening reception of days of yore. Portland artist Patrick Corrigan's work will be featured alongside the culinary talents of 188's crew from 7 p.m. – 9 p.m.
Come reminisce as we pay homage to our roots. Free tapas, cash bar. Music will be hosted by alum David Noyes and RJ Miller. local188.com
The Effect of Gamma Rays on Man-in-the-Moon Marigolds – Cold Comfort Theater
Oct. 23, 24, 25
Cold Comfort Theater will present the Pulitzer Prize, Obie and N.Y. Drama Critics award winning play, "The Effect of Gamma Rays on Man-in-the-Moon Marigolds" by Paul Zindel, on Friday, Saturday and Sunday, October 23, 24, 25 at 7 p.m. in the vestry of the First Baptist Church , 95 High Street, Belfast. Tickets may be purchased at the door or at Left Bank Books, 109 Church St., Belfast. All tickets are $12 and cash and checks are the acceptable currency at both sites.
For more information, Call: 207-930-7244 or check out our website at ColdComfortTheater.com.
Fierce and Fragile Women: Songs of Many Heroines – A Benefit Concert for New Hope for Women
Oct. 23
Karen Pax, soprano, will perform with Mark Howard, pianist, a concert entitled, "Fierce and Fragile Women: Songs of Many Heroines" on Friday October 23 at 7 p.m. at the Broad Bay Congregational United Church of Christ, 941 Main Street, Waldoboro. Concert goers will hear Arias, Jazz, and African American Spirituals as well as piano selections of Debussy, Poulenc, and Guinet. Free admission, donations accepted. FMI: waldoucc@midcoast.com or 832-6898
Splash 'n Dash at Oceanwood Camp & Conference Center
Oct. 25
Horse owners may ride through our trail system exploring our 130-acre property and Old Orchard Beach, school horses in our sand and grass riding rings, and enjoy a BBQ style buffet. Come as a walking visitor and enjoy our property on foot. Riders $20 per person, non-riders $10 per person. Registration and more information can be found on our website oceanwood.org. You may also contact the office at 207-934-9655 or office@oceanwood.org.
Opening night for Earth: Love it or Lose it
Nov. 5
Two Maine artists, Laurie Sproul and JeanAnn Pollard, have teamed up to create an art show called "Earth: Love it or Lose It". Beginning in January in Portland and now traveling the State, the show hopes to raise awareness about the dangers of climate change.
This November "Earth: Love it or Lose it" travels to College of the Atlantic in Bar Harbor. There it will be joined by students well versed on aspects of climate change, some of whom will travel to Paris for the November talks. Members of "Earth in Brackets" (including Mathew Kennedy, Morgan Heckerd and Kim Lopez and alum Maria Escalante) will also comment on the role the Paris Talks may play in efforts to cap fossil fuel pollution.
Opening night for "Earth: Love it or Lose it" is Nov. 5, 4-7:30 p.m. in the Blum Gallery at College of the Atlantic. Show runs until Nov 27. Gallery hours are M-S 11-4, free admission.
5th Annual Maine Harvest Festival
Nov. 14–15
The 5th Annual Maine Harvest Festival. Celebrate Farm Fresh on Saturday, November 14 and Sunday, November 15 from 10 am – 4 pm. Renowned Maine chefs, over 49,000 square feet filled with State of Maine growers and their harvest, bakers, cheese makers, vintners, brewers and fiber artisans with demonstrations, sampling, sales, toe tapping music and much more! All at the Cross Insurance Center, Bangor. www.maineharvestfestival.com
Aztec Two-Step: The "Second Step" Album's 40th Anniversary Show
Nov. 20
Renowned folk-rock duo Aztec Two-Step will celebrate the 40th Anniversary of their ever-popular 1975 RCA album release "Second Step" by performing the album straight through, in its entirety, along with other ATS favorites. The concert will take place Friday, November 20 at 8:00 p.m. Doors open at 7 p.m. at One Longfellow Square, 181 State Street, Portland, Maine 04101. Tickets: $29 advance/ $34 day of show, onelongfellowsquare.com or (207) 761-1757.
Cold Comfort Theater Shakespeare Intensive
Nov. 21–22
'This 3-class Shakespeare Intensive (6 class hours) will include an introductory Voice & Speech Lesson,a breakdown of Verse and how to approach a Shakespearean Verse monologue, and Acting Shakespeare.
Students will have a Sonnet memorized prior to the intensive and will have chosen a Verse monologue to use in the intensive and learn how to prepare and orchestrate their text. Each student will receive one-on-one instruction, and come away feeling awakened and confident when working on any Shakespearean text. coldcomforttheater.com/
Kennebunkport Paints the Town Red for Romance
Feb. 2016
This February 2016, "New England's Most Romantic Town" of Kennebunkport, ME is once again "painting the town red" for romance. Continuing to make its mark as the romance destination of the Northeast, the coastal town will be decked out in red twinkly lights and large hearts, and the restaurants, hotels, galleries and shops will welcome romantically inclined visitors with savings, from Red Plate dining specials to hotel stay packages, and Red Tag sales from retailers. For continued updates on Kennebunkport's Paint the Town Red, visit destinationkennebunkport.com/love

---
Get the best of Maine Travel, Food, Culture, and Homes & Gardens every month, with a subscription to Down East, the Best of Maine. Gift subscriptions available.
Courtesy of the Library of Congress Prints & Photographs division (whistler) ; Elnavegante | shutterstock (guitar neck); Anastasiia Sorokina | Shutterstock (bat) | Stocksnap.io (apples)
---