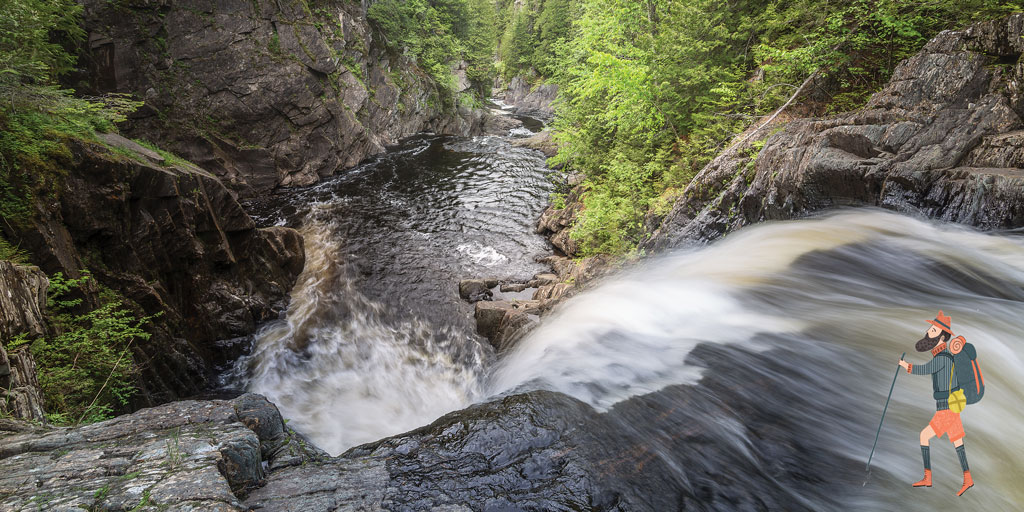 Sponsored by CLYNK
Cover photo by Charles Cormier
From the trail to the taproom to the tidal pool, from the lake to the lunch counter to the lobster shack, let our second (annual?) scavenger hunt be your guide to everything the Pine Tree State has to offer in the season when it shines brightest. This is your summer to discover something new. Happy hunting.
---
1
Drink in the View at Moxie Falls
At 90 vertical feet, thunderous Moxie Falls, near The Forks, is among the state's tallest cascades (there are differences of opinion as to which falls takes top honors). There's no beating the ferocity of Moxie's flow, though. What's more, you don't need all that much moxie to trek in for a view. It's a .6-mile hike in along a rolling, well-trodden trail (same distance out, obvs). It takes a little fancier footwork to traverse the steep pitch to the bottom of the falls, but if you scramble a ways downstream, you'll find tranquil pools for soaking. Fun fact: Moxie Falls (and Moxie Stream) aren't named for Maine's favorite soda, but likely the other way around. Find the trailhead on the north side of Lake Moxie Rd., 1.9 miles from the intersection with Rte. 201 in The Forks.
► "Selfie: Walk out onto one of the wooden viewing platforms found above and below to get a shot with Moxie Falls crashing behind you.
---
A 3-mile gorge of steep slate walls and photogenic little waterfalls, Gulf Hagas is likely the result of rushing waters carving out a chasm after bursting from a glacial-era ice dam. It's been called the "Grand Canyon of Maine," which is, well, maybe overselling it, but it is, in places, 100 feet deep, scenic as heck, and cool on hot days, and the trails that flank the canyon are a moderate hike with a lot of payoff. Where cascades like Screw Auger Falls (this issue's cover girl) and Billings Falls plunge into pools, hikers often peel off a few layers to wade in and cool off. Bring a map and compass, plus a pair of sandals or water shoes good for walking on wet, slick rocks, if only for the short river ford that kicks off a Gulf Hagas hike. Enter the Ki Jo-Mary Forest at the Katahdin Iron Works Checkpoint, 11 miles northeast of Brownville Junction.
'► "Selfie: Take your pick of the many dipping pools along Gulf Hagas, then nab a selfie while you're enjoying the soak.
---
At just 1,970 feet, Deboullie Mountain isn't the tallest peak in Aroostook County, but it has some of the best views in northern Maine, thanks to a former fire tower at its summit and the chain of perfect blue lakes that spill out beneath it. Just getting into the Deboullie Public Lands is a bit of a bear — you'll want a high-clearance vehicle and the really helpful map and guide the state Bureau of Parks and Lands publishes. From the trailhead on the east side of Deboullie Pond, it's a moderately tough 2-mile hike to the summit, gaining a little under 900 feet. The word "Deboullie" (Mainers pronounce it "deh-bully," of course) comes from the French word for tumble, a reference to the cool boulder field you'll cross before ascending to the summit. Climb the fire tower ladder at your own risk — if you do, you'll see well into Canada (it's just 10 miles away) and south to Katahdin. 30 miles northwest of Portage along roads paved and unpaved. 207-435-7963.
ƒ'► "Selfie: Great as the views are, the long ladder up the lookout tower is not for everyone, so we'll take a shot from inside the high tower or settle for one from the cabin at its base.
---
The protected coastal lands that make up the immense Rachel Carson National Wildlife Refuge provide a lush habitat for a mosaic of migratory birds: ibis, piping plovers, terns, and merlin are just a few summer visitors. The refuge is also a playground for nature lovers. In Scarborough and Kennebunk, for instance, the calm waters of the Spurwink and Mousam rivers beckon to kayakers, canoeists, and stand-up paddleboarders. Scarborough's Fun and Sun Rentals (10 Snow Canning Rd.; 207-730-1926) and Kennebunk's Coastal Maine Kayak (8 Western Ave.; 207-967-6065) offer rentals and tours. This summer marks 50 years since the refuge was renamed for the adopted Mainer and Silent Spring author. Spurwink River Fish Pier: Rte. 77, ½ mile west of Spurwink Ave. Mousam River Boat Landing: Rte. 9, 2.2 miles east of Rte. 1. Always check tidal charts before paddling.
ƒ'► "Selfie: On the water in the refuge, please. Birds optional.
---
5
Plunge in at Maine's Coldest Beach
Or one of them, anyway. Nowhere else in Maine does the water stay as cold — barely cracking 50 degrees — as all the way Down East. Jones Beach, on Carrying Place Cove, is quiet, pristine, and — rare for these parts — sandy. The shortest route to the beach is a less-than-a-¼-mile trail that skirts the treeline alongside Minsy Field on the north side of the cove. If you need to get your pulse up first, hike from the Quoddy Head State Park parking lot, following the 2-mile, cliff-skirting Coastal Trail or the gentler, slightly shorter Thompson Trail. Just don't forget your towel back in the car. From the intersection with Rte. 189 in Lubec, follow South Lubec Rd. and watch for a gate on the right side of the road, at Minsy Field, ½ mile east of Carrying Place Cove Rd.. The state park entrance, where you can pay your honor-system entrance fee for any of these trails and access the trailhead for the longer ones, is just over a mile further.
ƒ'► "Selfie: We need to see you in at least up to your waist. And don't bother trying to pass off a photo from another beach — we'll know you're in the right place by the look on your face.
Update: This item originally included a description of another road to the beach that was misidentified to Down East as a public access road. Because access to the beach is contingent on paying a state park entrance fee, consider this scavenger hunt entry optional. It's a great spot and you should go, but submitting this selfie will not be required to complete this category.
---
6
Keep Maine Green (One Can or Bottle at a Time)
You're perhaps thinking, "Er, taking in my cans isn't an outdoor activity?" Yeah, but if you love the Maine outdoors, you want to keep it litter free and resource rich. That's where CLYNK comes in. Maine's innovative, 12-year-old redemption program handled 100 million bottles and cans last year and is ubiquitous enough that Mainers use it as a verb. Every day, CLYNK diverts enough material from landfills — and enough potential litter — to fill the average single-family home, and the kilowatt hours saved by providing recycled containers to manufacturers could power 12 such homes for a month. We don't take a camping or paddling weekend without bringing along a green CLYNK bag to pack out empties. (Makes a great rain poncho in a pinch too.)
ƒ'► "Selfie: Register for an account (if you don't have one already) to get 10 free bags, then do your part to recycle this summer by depositing a bag at one of 51 drop locations at Hannaford supermarkets across the state. Hoist your bag at the station and say cheese.
---