Make a decent middle-class living doing what you love or die tryin'.
By Brian Kevin
Photographed by Andrew Foster
[S]pose pulls into the driveway of his childhood home in Wells a half-hour late, stepping out of the car with that grinning shrug of helplessness and mutual understanding that parents of small children give one another. At home, he has a 6-year-old, a 20-month-old, and 3-month-old twins.
"Sorry I'm late," says the 30-year-old rapper, clutching a MacBook in one hand and a sweating, 24-ounce plastic cup of iced coffee in the other. "Having four kids kind of caught up to me this morning."
It's raining, and Spose has "one quick Facebook thing" to do before leading me on a nickel tour of Wells, so we sort of half-crouch in the driveway while leaning into the back seat of his beige Altima sedan, where he has the laptop plugged into a smartphone for the 4G signal. Radio stations in Portland and Bangor have started playing two tracks from his new record, Why Am I So Happy?, and Spose wants to post YouTube links onto his Facebook page, so fans can easily find the songs if they hear them on the radio and go looking.
"Nobody," from Spose's brand new album, Why Am I So Happy?
[jwplayer mediaid="21948″]
His face lit by monitor glow, he asks rhetorically, "Dude, if a Facebook post doesn't have an image attached, is it even really a Facebook post?"
It's a wry, offhand, meta-jab at our obsession with the trivialities of social media — the kind of joke that Spose is really good at making — but on another level, he isn't joking at all. He thinks about this stuff: social media, marketing, design, how to reach people and hold their attention. He thinks about it a lot, in fact, when he's not recording or performing or writing lyrics or browsing beats. He has to, on account of being his own manager, press agent, webmaster, art director, merch designer, and record-label president — a one-man band and a one-man brand, if you will.
It wasn't always this way. In early 2010, Spose was signed by Universal Music Group on the strength of his ferociously catchy breakout single, "I'm Awesome," a tongue-in-cheek send-up of hip-hop's culture of self-aggrandizement. Universal had whole teams of people managing both Spose the musician and Spose the brand. Ten months in, the label dropped him without ever producing a record, but not before "I'm Awesome" sold half a million units, making Spose the only Maine artist in the last 10 years to have put out a certified Gold single — never mind being the state's first rapper to achieve anything remotely resembling mainstream recognition.
[infobox maintitle="IN SPOSE, RAP HAS A DEFT, CHARISMATIC INDIE CHAMPION DEDICATED TO SUBVERTING SOME OF THE GENRE'S CLICHÉS AND HYPOCRISIES." subtitle="" bg="black" color="white" opacity="off" space="60″ link="no link"]
But Spose's early success and southern Maine roots are actually the least interesting things about the guy. In Spose, rap has a deft, charismatic indie champion dedicated to subverting some of the genre's clichés and hypocrisies. And although — make no mistake — a good portion of the Spose catalog contains lyrics that are hopelessly unprintable by this magazine, his music occupies a needle-eye Venn intersection of brainy, hooky, and fun that makes him arguably the most compelling musician to come out of Maine in decades — even if you think you don't care about hip-hop.
[T]his was basically the shittiest house in Wells, but it's like two blocks from the high school, so everybody in school knew where I lived."
Spose — whose Wells High diploma reads "Ryan Peters" — says this with a smile and a hint of fondness as we drive away from the expanded Cape where he spent ages 10 through 22. Out front, the paint is peeling off the gray wood siding and once-red trim, but the back of the house is fresher anyway, with a big yard that Spose says took three hours to mow.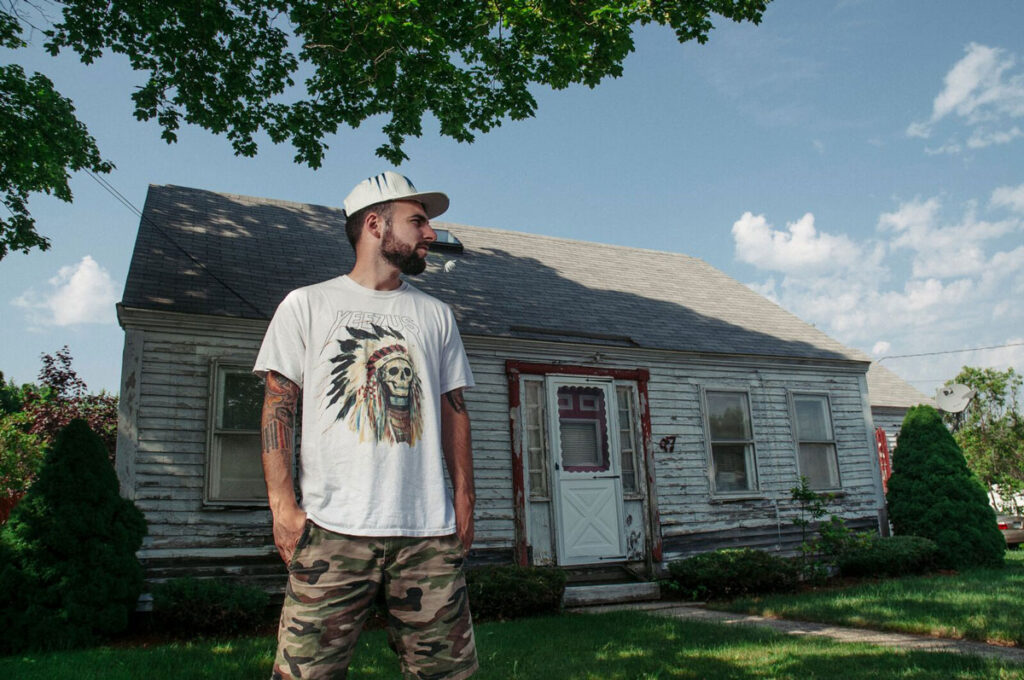 Growing up in Wells doesn't just figure centrally into the Spose mystique — as in, "Golly, whoever expected a rapper from Wells?" although Spose hears plenty of that — he's also made it a central part of his lyrics, repping the historic beach community as often and as fervently as rappers from New York or Atlanta might shout-out their 'hoods. He is unabashed and a bit defiant in his Maine-iness, proclaiming his devotion in songs like "The King of Maine" (I wear a seal-skin jersey to the Sea Dogs game), "That's That" (Wells, Maine, where the skies are clear, dads gut deer and sip upon Shipyard beer), and "You Can't Get There From Here" (They told me I couldn't get to where I'm trying to go from the state of trees, lakes, ice fishing, and snow).
Also central to the Spose arc is having been raised in that house by his divorced mom ("a badass," he calls her) who worked a handful of low-paying jobs (sometimes simultaneously) and who, for a brief time before she remarried, still needed assistance from food stamps to support him and his brother and sister. Ryan saw his father in Sanford every other weekend, and although his dad — a tech-savvy guy who climbed the ranks from cable-company installer to executive — spoiled him now and then with a CD player or a guitar, Ryan grew up solidly lower-middle class, a world away from the rows of many-gabled, beachfront vacation homes familiar to so many of Wells' summer visitors.
[infobox maintitle="SPOSE REPS WELLS AS OFTEN AND AS FERVENTLY AS RAPPERS FROM NEW YORK OR ATLANTA MIGHT SHOUT OUT THEIR 'HOODS." subtitle="" bg="black" color="white" opacity="off" space="60″ link="no link"]
That well-heeled residential strip along Wells Beach is the first stop on our Spose tour of Greater Wells. We pass a handful of local landmarks along the way: Congdon's Doughnuts ("the best drive-through breakfast sandwich you're ever going to get"), Hidden Cove Brewing Company ("breaks my heart because it used to be the Wells Beach Steak House, my favorite restaurant, hands-down"), and the tallgrass marshland of the Wells Reserve. The rain's let up a bit, so we park at the beach and take a walk.
"I don't know anyone who lives in any of these houses," Spose says, gesturing. The line of pale-colored facades and cupolas extends out of sight in both directions. "All these houses, as far as you can see, all the way to Ogunquit? I don't know any of these people. They're all owned by very wealthy people, mostly from Massachusetts, New York, Quebec. In the winter, it's just vacant, so this was our beach cruise. It's where we'd smoke weed as teenagers, or in college, get a bottle of wine and go park wherever. I always think it's funny the way people in my town use this area as opposed to the people who come here for vacation."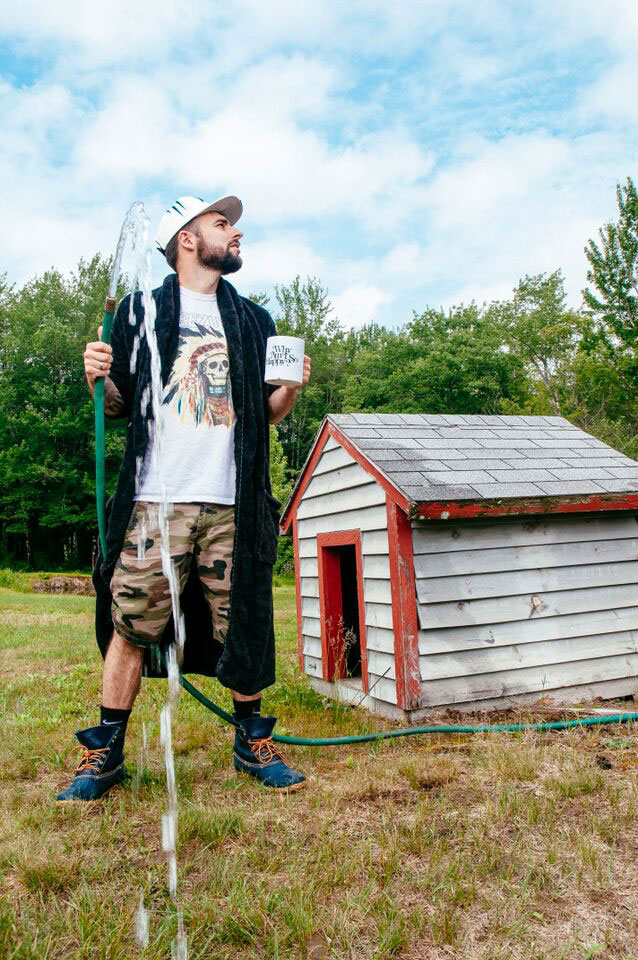 But teenage life in Wells wasn't all pot smoking and beach cruising. Young Ryan loved books, liked school, and got good grades. He was into skateboarding. He got serious about music at an early age, when his dad turned him on to classic punk and alternative rock. As a tween, he loitered in Wells' strip-mall record store and fantasized about working at Bull Moose in Sanford. He was crazy about alternative rock bands like Weezer and the Smashing Pumpkins, taping songs off the radio and meticulously tracing band logos on his school notebooks. Today, his right arm is tattooed with liner art from the Pumpkins' seminal 1995 album, Mellon Collie and the Infinite Sadness — released when he was all of 10 years old.
But the mid-1990s were also the MTV heyday of rappers like 2Pac and The Notorious B.I.G., and like many a '90s kid, Spose came up on both rock and rap. After his high-school rock band kicked him out, the teenage Ryan started focusing on his lyrics, rapping into a four-track tape recorder with friends (one of whom suggested the stage name Spose, derived from Ryan's conjunctive pronunciation of the word suppose). When he was 17, Spose went to a University of New Hampshire arena to see the rapper 50 Cent, then the hottest thing in hip-hop, on the heels of his multi-Platinum album Get Rich or Die Tryin'. Standing in the front row before the show, Spose got into a friendly freestyle battle — competitively improvising rap lyrics — with a member of the headliner's entourage. Afterward, a man with a backstage pass gave him a business card, said he'd put him on the guest list for the following night's Portland show, and asked Spose to bring along a demo CD.
Spose was flabbergasted, but the next night, the backstage-pass man never showed up. He and a friend got in on the guest list, but ticketed concertgoers kicked them out of the seats they'd been promised. The night was a bust, but it gave Spose the confidence to think that rap might actually be his ticket, might be something worth devoting himself to. From then on, he started looking at those beachfront homes in a different way, like maybe they weren't so far out of reach after all.
"I wrote a song about it one time," Spose says, heading back to the car. "It was called 'The Other Side of the Marsh.' And that was the question: Can you get to these houses on the other side of the marsh? It's almost like looking at the skyscrapers when you live in the Bronx or something."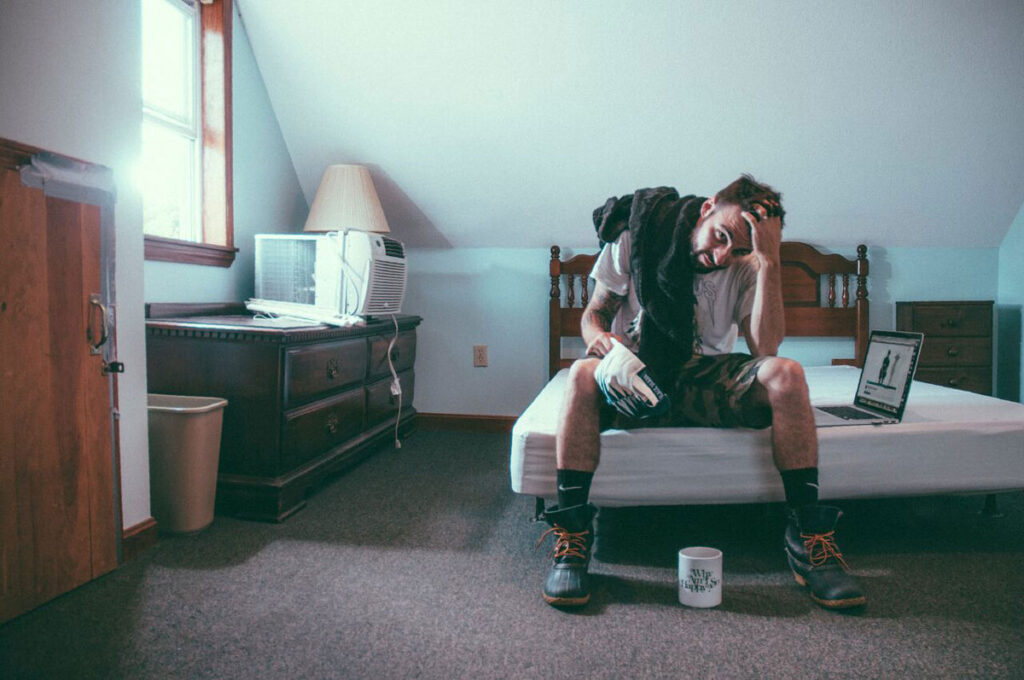 [T]
hings that Spose raps about, a concise and non-exhaustive list:
1. Maine, and being from it. See above.
2. Money. Related to the above, Spose raps a lot about not having any. If a dominant narrative in contemporary hip-hop is the rags-to-riches story, Spose's lyrics instead tout something like rags-to-solvency. In a handful of songs, he raps about payday, about how good it feels to cash a check on Friday and cruise around in your crappy car, knowing you have a little pocket money. Where a lot of today's hip-hop tends to celebrate the conspicuous consumption of those who've reached the top, Spose sees his lyrics as a kind of fanfare for the common man. The representative of people who have little dough, he calls himself in one song. Defender of the peasantry, he raps of himself in another.
"My audience is not the 1 percent," he tells me. "It's the 99 percent. It's the people working in restaurant kitchens."
Fair enough, I point out, but the same can be said of a superstar rapper like Jay Z, which doesn't keep him from rapping about Hennessey, marble floors, and gold ceilings.
"The thing is that Jay Z gives them something to aspire to," Spose says, "whereas I am their representative, almost. I try to look at myself as, 'I am speaking your thoughts.' "
[infobox maintitle=""MY AUDIENCE IS NOT THE 1 PERCENT. IT'S THE 99 PERCENT. IT'S THE PEOPLE WORKING IN RESTAURANT KITCHENS."" subtitle="" bg="black" color="white" opacity="off" space="60″ link="no link"]
So in a song like "We Hate Money," we get crowd-pleaser lines like, Broke people stand up, if you lack cash put your hands up! and Let me see your lighters if funds couldn't be tighter. Even when Spose fantasizes about coming into money, his ambitions are often absurdly modest — like, say, not having to borrow his mom's car — or simply absurd — like, say, flying a private jet to the Taco Bell in the neighboring town.
3. Fast food. "Well, it's relatable," Spose shrugs. And it's good for a laugh. Eating at McDonald's because Subway's pricey, goes one self-deprecating lyric. [Girls] want diamonds, islands, expensive bottles — I'm like, "How about the dollar menu at McDonalds?" goes another. That kind of humor also lets Spose preach a little without sounding didactic. In "Knocking On Wood," a secretly subversive party song about appreciating first-world comforts, Spose declares, Lucky, aren't we? All this time to get drunk and party? Puke up food while kids are starving? All of Somalia, not one Arby's.
Flipping burgers is a recurring theme, and Spose drives me past Barnacle Billy's, the famed Perkins Cove lunch stop in Ogunquit where he once wielded a spatula between stints studying journalism at the University of New Hampshire and English at Suffolk University in Boston, all while trying to jumpstart his rap career. I was the guy who melted the cheese on your burger, now I'm educated, healthy, and free, Spose raps on the new record. And in case you're wondering if those English classes paid off, that lyric borrows a line from W.E.B. Du Bois.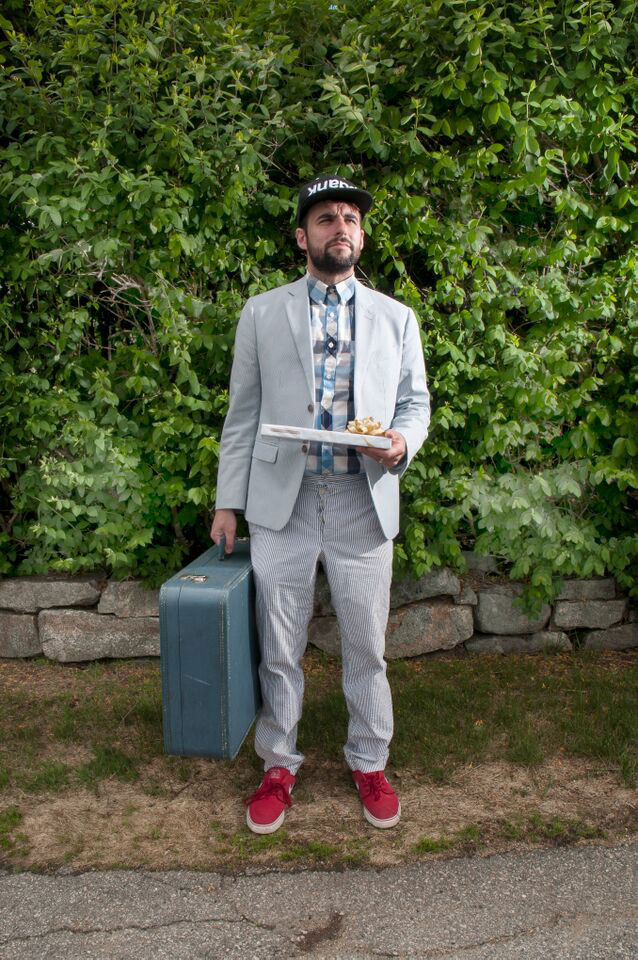 4. Esoteric literature. Admittedly, for every nod to someone like Du Bois, Spose's lyrics contain two or three mentions of weed, beer, or sex, so it's not like the guy is aiming for highbrow. But there are enough clever references to classic American literature to remind you that intelligence and vice aren't mutually exclusive. I would rather be Nathaniel Hawthorne than Lil' Wayne, Spose raps on one track (the rare occasion that the author of The Scarlet Letter and the author of "I Miss My Dawgs" are mentioned in the same breath). This is East of Eden mixed with Reasonable Doubt, he crows elsewhere, invoking both John Steinbeck's sweeping novel and Jay Z's landmark first record. Both were huge influences: Spose has a detailed portrait of Steinbeck tattooed on his left arm, and Reasonable Doubt, he says, was the first time he heard a rapper and thought, "Wow, listen to this dude who's not afraid to be smart!"
5. Ambition; making it. Related to all of the above. Weaving through all eight of Spose's records (half of them proper studio albums, half more informal and freely circulated mix tapes) is a common thread of tension between self-parody and swagger. The latter is rarely about status or material success — as in, hey, I'm important, look at all my stuff — but instead about skills, achievements, and the unsurpassable high of self-actualization. Yeah, I'm just some plebeian twerp from Wells, Spose seems to say, but hey, I can rhyme, and I want to feed my kids doing it, and how cool is it that I actually am? When Spose raps about beating the odds as a rapper from Maine in "You Can't Get There From Here," or about rocket[ing] from microscopic to the topic of discussion in his new single, "Nobody," you get the unmistakable sense of a guy who believes there's nothing standing in his way.
"Like anybody who puts all their finances and heart and soul into this," Spose says, "especially in hip-hop, but maybe in any genre, I believe I'm the best. And if I keep going, I don't think there's any reason I can't be the biggest artist in the world. You have to believe that."
That confidence prompted him in 2008 to spend a $1,000 kickback from a student loan to mix and print 200 CD copies of his debut album, Preposterously Dank. He signed up for the consignment program at Bull Moose and hand-mailed copies to DJs around New England.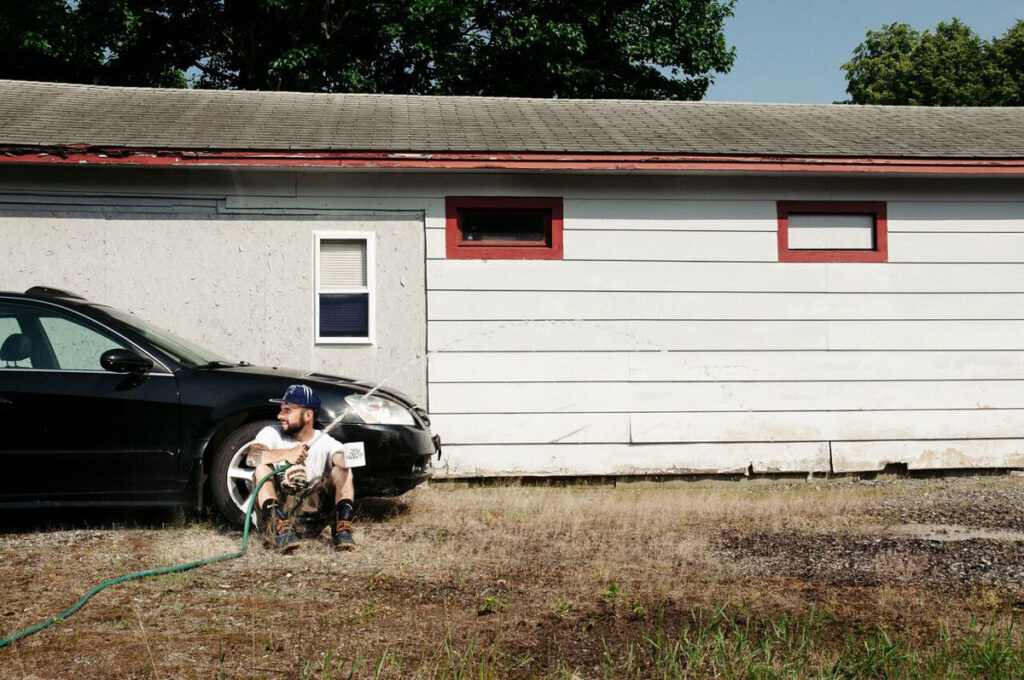 "Once I put out that first album, it was kind of a no-turning-back thing for me," he remembers. "I just believed that I had something important to say — like, how could this not work?"
And what was that something important?
"That whole first album was anti- everything in hip-hop. It was all about, okay, if everybody's ballin', I'm not ballin'. If everybody's got a ton of money, I'm at Coinstar. If everybody's lying, I'm telling the truth. So that was the original Spose narrative: to rap as good as the people who rap like that, but not about that."
In late 2009, Spose put out the single, "I'm Awesome," part of a mix tape project with friend and fellow Wells rapper Cam Groves. The song is a perfect distillation of this anti-hip-hop mentality: it's basically a funny, clever, slightly lewd, and super-catchy list of reasons why Spose is a bit of a loser and has no business in the big-time rap game. And, of course, it's the song that catapulted him into it.
[infobox maintitle="WEAVING THROUGH ALL OF SPOSE'S RECORDS IS A TENSION BETWEEN SELF-PARODY AND SWAGGER." subtitle="" bg="black" color="white" opacity="off" space="60″ link="no link"]
Spose sent the mix tape to Portland DJ and Maine music stalwart Mark Curdo at alternative rock station WCYY, who aired "I'm Awesome" on his long-running local music show. It got such a response, Curdo took it to higher-ups at the station to see about putting it in regular rotation.
"We gave it a few little spins during the day, and it just went through the roof, like instantly," Curdo remembers. "It hit people right away. The next thing you know, by the end of the week, it was the number-one most requested song."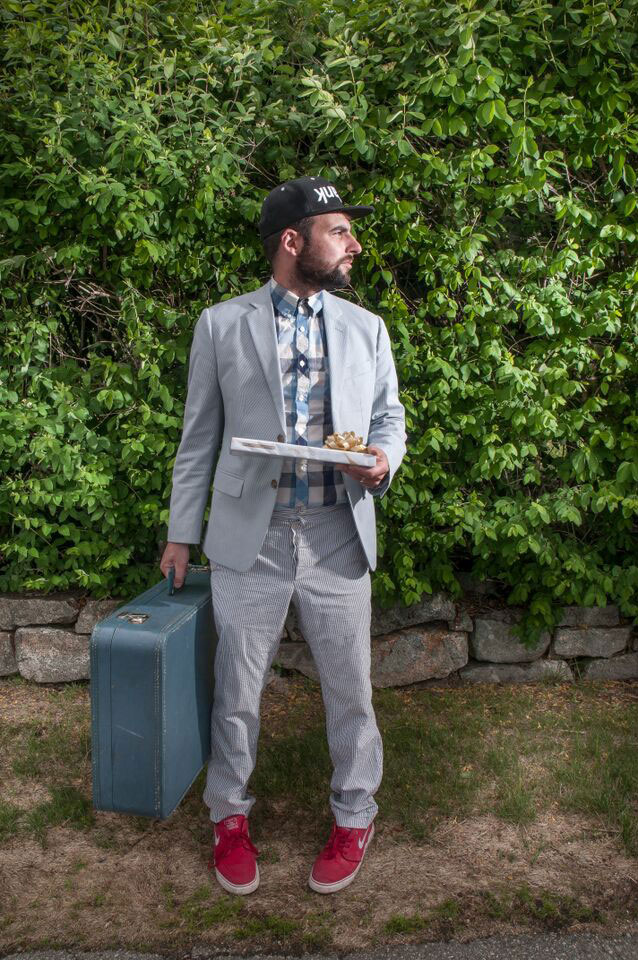 Spose grew up on WCYY and remembers vividly the night when "I'm Awesome" hit the #1 spot on the station's Top 5 countdown. His girlfriend (now wife) had given birth to the couple's first daughter that winter. Spose was collecting unemployment while delivering pizzas and commuting to college in Boston. He had his mom call in to order a pizza so he could sit in the car and hear his song, playing on the same station from which he'd once taped his favorite Smashing Pumpkins tunes.
Meanwhile, Curdo gave the track to a pal at WCYY's Top 40 sister station, WJBQ, which put "I'm Awesome" into its rotation with the same results. The song's runaway success in the Portland market grabbed the attention of execs at Universal Records, and in early 2010, Spose got a call from the label while sitting in class at Suffolk. They flew him to New York and signed him more or less on the spot.
The rest of that year was a blur of red-eye flights — meeting with suits in New York, working with high-dollar producers and studio musicians in Los Angeles, playing shows and doing radio appearances in major markets around the country. Spose filmed a pilot for an MTV reality-ish show (never picked up). Universal released "I'm Awesome" nationally as a single in March. It peaked at #37 on Billboard's Hot 100 chart in April and sold 500,000 copies by August (it's somewhere north of 800,000 today). Rolling Stone called the track, "Almost like an homage to the early '90s, with overzealous posturing borrowed from the Beastie Boys and unabashed tales of slacking that brought to mind Green Day."
"I was just like, this is absolutely ridiculous," remembers Curdo, who signed on as Spose's manager that year. "In 2010, to sell half a million of anything is a major, major accomplishment."
But things went sour with Universal before the year was out. Today, Spose isn't eager to talk negatively about the experience, but maybe nothing tells the story as well as a verse or two from "Pop Song," which Spose wrote at the tail end of his contract with Universal — and which, not unrelatedly, sounds more like someone rapping over a Weezer song than any bass-thumping hip-hop club anthem:
I wrote a verse and said listen to this shit
They put their hands to their forehead as I kicked it
They're like, "Look, I don't think that you get it.
Nobody cares about your verse — it's not '96, kid."
I told them, look man, I'd rather have my wrist slit
than sound like every other f*cking singer in the business.
They're like, "Really, Spose? Would it be that cataclysmic
to make a couple songs for Top 40 and Rhythmic?
With hooks big enough to catch Moby Dick with,
with very few words and some melodies addictive?
If you're not up to the task, grab your bags, call a cab, it's too bad
because we want you to write a pop song.
Spose included the song on his second album, Happy Medium, which he self-released in 2011 after Universal dropped him, less than a year after he'd been signed.
[T]he Spose tour includes a stop in Sanford at the world headquarters of P. Dank LLC, the homegrown record label that Spose founded after things fell apart with Universal. It's an unassuming second-floor walk-up with some album covers on the wall — Prince, Outkast, David Bowie, The Notorious B.I.G. — above an Aroma Joe's coffee shop where Spose loads up on his beloved iced coffee. He releases his own albums on P. Dank — last month's
Why Am I So Happy?
is his fourth full-length — along with projects by a handful of other Maine rappers and hip-hop outfits.
Five years after his Universal stint, Spose is indeed happy, maybe the happiest he's been. If his flame-out with the label was disheartening, it didn't actually challenge his resolve to make a living from rap.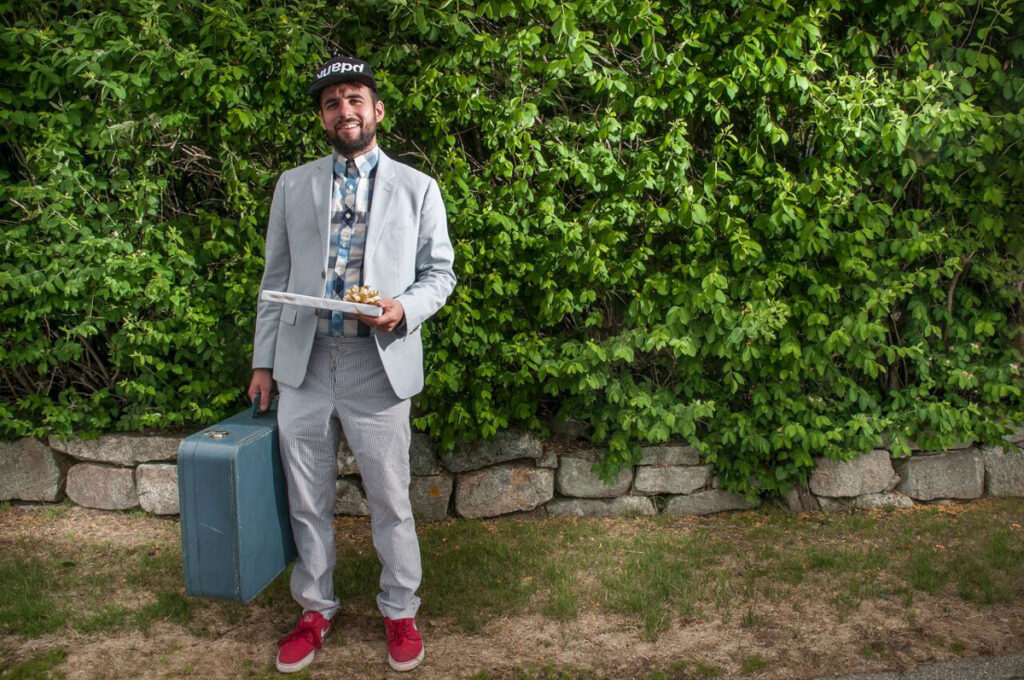 "I was definitely bummed," he says, sitting at a desk next to a stacked set of keyboard synthesizers, "but I was never not confident that I could pull it off."
His release from Universal, Spose points out, coincided with the jet-powered takeoff of streaming media and the social web. Facebook pages for businesses and artists were still a new phenomenon. Music-streaming sites like Pandora and Spotify were just getting off the ground, and musicians were only starting to realize the phenomenal reach of music videos on YouTube.
Spose dove in headfirst. He's spent the last five years pouring time, money, and sweat into a suite of creative and rather cinematic music videos. One has sequences filmed in each of Maine's 16 counties; another involves an elaborate, 50-item video scavenger hunt. He's racked up tens of thousands of YouTube followers and millions of views, and he's relentlessly active on social media. In 2013 alone, he released two professionally produced mix tapes for free digital download, and last year, he published a book of his lyrics and the stories behind them. All of this in addition to raising four kids, touring, recording, producing other rappers' records, and maintaining a not insignificant side biz of Spose and P. Dank merchandise and apparel ("Using proper English in rap songs since 2002," reads one popular t-shirt).
[infobox maintitle="HE HAD HIS MOM CALL IN TO ORDER A PIZZA SO HE COULD SIT IN THE CAR AND HEAR HIS SONG PLAYING ON THE RADIO." subtitle="" bg="black" color="white" opacity="off" space="60″ link="no link"]
"He's working while we're all talking about working," says Portland-based rapper Shane Reis, who guest raps on Why Am I So Happy? and released his own debut, The Reis & Shine, on P. Dank in 2013 (Spose raps on the record, plus he did the album's cover art and directed a music video). "He just never stops. A lot of people get little chances and blow it, but he's just done the opposite."
"You're supposed to learn from things, and he totally does," says Curdo. "I think it's made him better at this whole game, with music. And I think it's also helped him earn the respect of people who might not otherwise be there to support hip-hop, or to support someone who's a little foul-mouthed at times. I think people see the clever side in him and the smart side, and they're willing to give some things a pass because they see that there's a smart dude there too."
That intelligence is evident all across Why Am I So Happy? The new album isn't a concept record, per se, but its title does nod at an overall motif.
"I am really intrigued by this concept of learned misery," Spose explains, "where nobody can be happy or put their life in perspective. It seems like a hoax. You're told to be miserable by TV ads, by the products you don't have, by fear on the news. I try to tackle that on the album. . . . I mean, there were moments when I had hundreds of thousands of dollars in my bank account, and was I any happier? No. The suggested narrative in America and in hip-hop is that if you get this amount, you'll be happy, but I think that's a myth."
Which is not to say it's a wholly serious record; there are still plenty of laugh lines and cutting, clever similes (finding no bills in his mailbox is like bye week in Buffalo; to win is to get the W like tungsten). But Spose is acutely aware of being perceived as a novelty act — a real risk when you're a white rapper from Wells who punctuates verses with "ayuh" and pokes fun at hip-hop's sacred cows. Spose raps about this concern fairly often, declaring in one song, It's not a novelty or comedy because I'm into honesty and modesty and never did a robbery.
[infobox maintitle="MAKE A DECENT MIDDLE-CLASS LIVING DOING WHAT YOU LOVE OR DIE TRYIN'." subtitle="" bg="black" color="white" opacity="off" space="60″ link="no link"]
So he's included a little less Maine on the new record, a little less being broke, a little less fast food. And where those old Spose chestnuts do pop up, they're in service to a larger point. He hits two out of three, for example, on "Thanks Obama," a sarcastic litany of complaints mocking our eagerness to assign blame for our problems. Yeah, Spose says, you listen because it's funny, or maybe because you hate Obama, or maybe because you love him.
"But then, little do you know," he says, with exaggerated guile, "I just tricked you into watching a video about you — oh, gotcha!"
The album's title is also an oblique nod to an incident from last October, when Spose's tour van was robbed in St. Louis, following a show there the night before — his 14th in a row, in the middle of a 38-show run. Spose, his DJ, and crew were having lunch at a barbecue joint when thieves broke into the van in broad daylight, hauling off some $30,000 worth of laptops, mics, mixers, cell phones, clothes, cash — and a hard drive that held around 30 completed tracks for what was supposed to have been Spose's 2015 album. It was exponentially more devastating than being dropped by Universal; Spose cried right there in the street.
But by the time he took the stage that night, rapping over beats streamed from his iPhone, fans were already launching an online fundraising effort to replace the stolen gear. It collected $18,000 in 26 hours. By the time Spose got onstage in Denver two nights later, he already had a new laptop and other replacement gear.
It was more than a lifesaver, and it was more than touching. Spose calls it "the referendum," and when the tour ended, it sent him charging back into the studio with new energy.
"Even previous to the robbery, I don't know if the direction I was heading in musically was inspired," he says. He stares for a moment at the keyboards, the mics, and the other recording equipment strewn around his office. It's the closest thing to an admission of doubt that I've heard all day. "Then the referendum happened. 'Do you want Spose to keep going, or do you want him to not?' And they all voted yes."
And that's why Spose is so happy.
---
Subscribe to the digital version of Down East to get the best of Maine travel, culture, food, and homes & gardens delivered each month to your tablet. Plus you'll get a first look at the online extras! Buy this issue only or try it for six months for just $12.99.