Once again this year, our editors seeded an online tournament bracket with 16 of our favorite Maine towns, broken up into four conferences by population. Our choices were guided by hard data like home prices and median income, along with subjective takes on amenities we value: good food and drink, outdoor rec, that intangible neighborly vibe. We launched our Maine Madness tournament online, sponsored by Legacy Properties | Sotheby's International Realty, and tens of thousands of you took over from there, voting in four elimination rounds to select one best-of-the-bunch Maine hometown. Here are the eight bang-up boroughs that advanced to round two, including this year's reader pick for the Best Places to Live in Maine.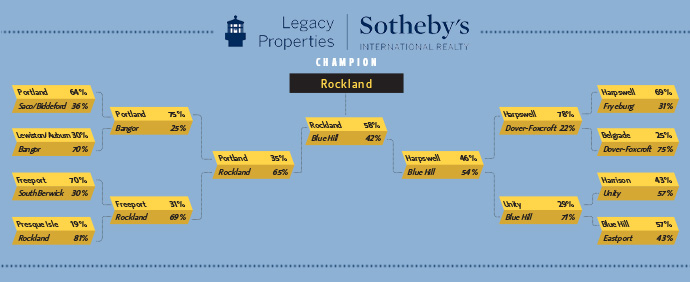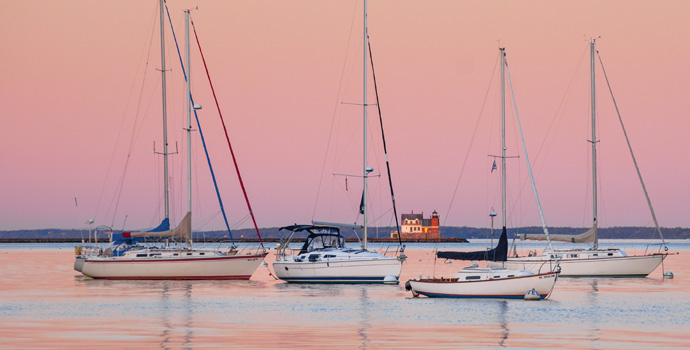 You only have to go back a decade or so to reach a time when it may have seemed preposterous for Rockland to take top billing in a list like this. Long considered a saltier, grittier cousin to manicured Camden, Rockland slogged through a rocky transition from its economic reliance on fishing (and stinky fish processing) to a more diversified service and tourism economy. Of late, the city has hit its stride. True, the school system's reputation is still middling, but Rockland has seen median income jump and percentage of families in poverty dwindle since the first decade of the 2000s. Moreover, downtown is hopping, thanks to what's arguably the state's most vibrant arts scene — there's a pinch of wild, creative energy to Main Street's gallery circuit, its foodie bustle, and the steady stream of new faces around town.
Population
7,237
Median household income
$39,077
Percent of families below poverty level
8.3
Median Age
46.6
Native Greta Van Campen, 33, says there's no place she'd rather live. A landscape artist (find her minimalist, geometric paintings at the Dowling Walsh Gallery), she starts her days at Rock City Coffee and ducks out of her studio to stroll the dramatic, mile-long breakwater when she needs some inspiration.
Rockland's nightlife can kind of sneak up on you, since Main Street sometimes looks quiet while locals are, in fact, crowding bar stools at Fog Bar & Cafe, tucked into the restored 1923 Strand Theatre for a concert or an indie flick, or enjoying Van Campen's favorite Sunday happy hour, dollar oyster night at Primo. "It's fun to go in there," she says, "because when local businesses seem quiet, you walk into Primo and it's still bustling."
Greta Van Campen's Gallery Recs
Asymmetrick Arts
Boundary-pushing, often conceptual works with a lot of influence from the graphic design world. Cool installation art too. 405 Main St. 207-594-2020. asymmetrickarts.com
---
Center for Maine Contemporary Art
The (very cool) new kid on the block, in a sleek $5 million campus near the waterfront. This spring, find a full-size wooden model of a Piper Cub airplane alongside new prints from David Driskell (see page 64). 21 Winter St. 207-701-5005. cmcanow.org
---
Dowling Walsh Gallery
Vivid contemporary painting and photography from Maine artists like Cig Harvey, Amy Lowry, and Erik Weisenburger. 365 Main St. 207-596-0084. dowlingwalsh.com
---
Farnsworth Art Museum
The original anchor of Rockland's scene, with more than 15,000 works in its permanent collection and an emphasis on all three generations of famous Wyeths — Andrew's works take center stage this summer, celebrating the late master's 100th birthday. 16 Museum St. 207-596-6457. farnsworthmuseum.org
Blue Hill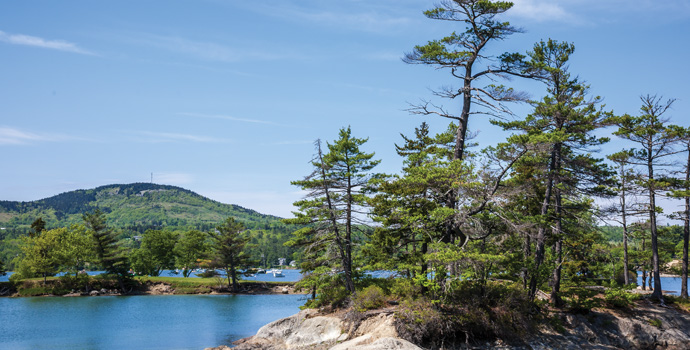 The bronze statue of a lacrosse-playing Eastern Woodlands Indian has welcomed folks to Blue Hill for three decades. The Main Street landmark is the creation of sculptor Jud Hartmann, 68, who first visited the seaside town on a daytrip in 1985. By sundown, he and his wife had made an offer on a house. "Very soon after we moved, we found that our impulsive decision is a common story here," Hartmann says. "We've met all these people who weren't even thinking of moving, then all of a sudden they were buying a house."
Population
2,676
Median household income
$50,169
Percent of families below poverty level
11.3
Median Age
49.9
On the western shore of Blue Hill Bay, a world-renowned sailing destination, Blue Hill is beautiful, but that's only part of its appeal. The entire Blue Hill peninsula is a haven for artists, musicians, and writers, thanks in part to venerable institutions like Kneisel Hall, a summer chamber music school up the street from Hartmann's gallery, and Haystack Mountain School of Crafts in nearby Deer Isle.
A center of the 1950s back-to-the-land movement, the peninsula was producing organic foods "long before it became the trend it is now," says Kevin Gadsby, who recently moved from Philadelphia to oversee the expansion of the Blue Hill Co-op. "Prior to moving, my wife and I did our research and found a town full of great schools both private and public," he says. "That matters when you've got three kids."
Blue Hill's creative culture is remarkably inclusive, says Sara Billings-Leighton, 50, a real estate agent and owner of SaraSara's boutique. "We have incredible groups like the Bagaduce Chorale and Flash in the Pans steel drum band, whose members are doctors, plumbers, auto mechanics, carpenters, and lawyers." As a kid, Billings-Leighton didn't appreciate Blue Hill's worldliness until she lived elsewhere. "So many of us who grew up here couldn't wait to get out," she says, "and once we left, we were willing to do whatever we could to get back."
Dover-Foxcroft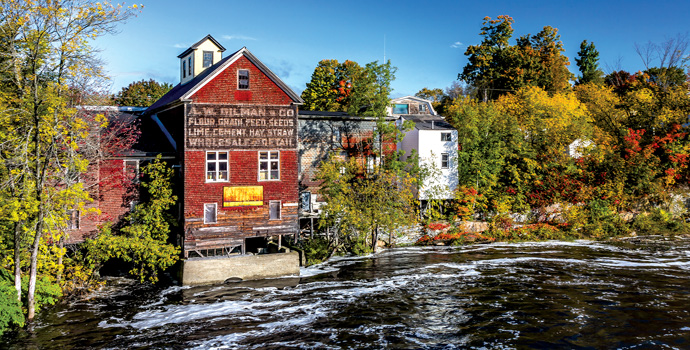 Population
4,108
Median household income
$42,402
Percent of families below poverty level
6.0
Median Age
50.8
So you want a place up north — cheap real estate, small-town charm, mountain splendor — but not, like, way up north? From Dover-Foxcroft, it's just over an hour to both Belfast and Baxter State Park, 45 minutes to the Bangor Mall and Moosehead Lake. Not that you have to leave to keep busy. Dover doesn't bustle (except during the Whoopie Pie Festival in June), but its small downtown is anchored by the restored Center Theatre, with popcorn flicks, a cool one-act play festival (this month!), and occasional concerts and touring performances. Across the Piscatiquis River, The Mill at Dover-Foxcroft, which opened in 2015, is a 60,000-square-foot former furniture mill easily mistaken for a sleek mixed-use development in Portland. Office tenants share fiber broadband, views of the old dam, and coffees and paninis at the café. The six-room boutique inn does brisk summer business, the owners are wooing an on-site brewery, and (as of last visit) there's no vacancy in the 23 industrial-mod apartments. Jade Harmon, the Mill Inn+Cafe's 24-year-old manager, moved back to her childhood home after a SoCal stint. Many tenants, she says, are wayward Doverites who returned to take advantage of the cool new lofts.
Lest you suppose the place is going metro, Center Theatre director Patrick Myers (at 44, another boomerang native) says it's still a town where you can let your kids wander. "I'm very progressive in some ways," Myers says, "but time stands a little still here, and it's kind of nice."
Jade Harmon's Perfect Dover-Foxcroft Day
9 A.M.
Cinnamon-apple pancakes at Spencer's Bakery & Cafe (922 W. Main St.; 207-564-6911).
11 A.M.
A run on the wooded, multi-use trail following Dunham Brook through Dover. "You're right in the middle of town," Harmon says, "but you'd never know it."
2 P.M.
Take a boxed lunch (full of locally grown/raised/baked everything) from Spruce Mill Farm & Kitchen (920 W. Main St.; 207-564-0300; sprucemillfarm.com) out to Peaks-Kenny State Park, on the north edge of town, to swim in Sebec Lake with views of Borestone Mountain.
6:30 P.M.
Grab a brush and a beer for Paint Nite at The Mill Inn+Cafe (5 E. Main St.; 207-805-8839; dfmill.com/cafe).
Portland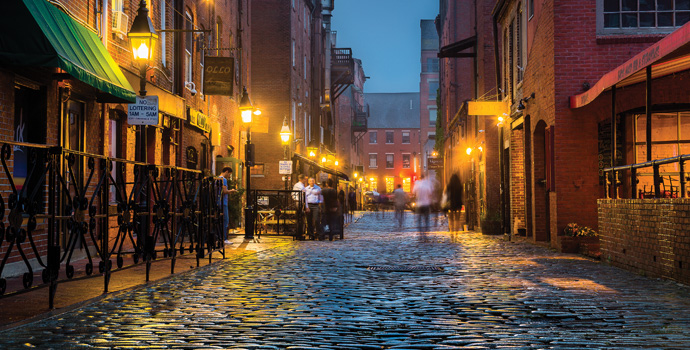 Population
66,490
Median household income
$46,280
Percent of families below poverty level
14.3
Median Age
36.4
The Forest City can't build housing quick enough for all the wanna-be Portlanders (seemingly half of them fleeing other coastal metros) who want a taste of its big-city filling in a small-town shell.
"The music, the food, the closeness to nature — it's all ideal for what I want," says Oronde Cruger, a 27-year-old sex educator for the nonprofit org Speak About It, who moved from South Florida a decade ago and now lives on the West End. You don't have to look hard for signs of Portland's cultural life. Summer concert programs at Maine State Pier and Thompson's Point have proven hugely popular. The much-heralded restaurant scene shows no signs of slowing. And how many cities are adding indie bookstores, like the new Print, at the foot of Munjoy Hill? For all its energy, the city doesn't want for trails or quiet pockets: no one has yet built condos obstructing Sumner Park's knockout views of Back Cove and the city skyline, and South Portland and Cape Elizabeth's beaches offer quick escape from city life (such as it is).
Oronde Cruger's Perfect Portland Day
8 A.M.
Caffeine and breakfast pastries (on lovely plates) at Portland Pottery Cafe (118 Washington Ave.; 207-772-4334; portlandpottery.com).
10 A.M.
Stretch of the legs on the Eastern Prom. "Not everyone thinks to wander around the hiking paths there," Cruger says. "There's a lovely lookout down from the tennis courts where I like to sit and watch people running the train tracks."
NOON
Lunch at Sisters Gourmet Deli (15 Monument Sq.; 207-536-4932; sistersgourmetdeli.com), which Cruger loves for the giant sandwiches and the social commitment. "The owner has a soft spot for giving young women early work experience to motivate them to one day be the boss," he says. "I don't know another sandwich spot so community oriented."
2 P.M.
Cruger's quick afternoon adventure? "Packing up my folding bike and taking a ferry to one of the Casco Bay islands. It's cheap, fun, social, and close enough to be back in time for happy hour."
6:30 P.M.
Said happy hour: Cruger likes Liquid Riot (250 Commercial St.; 207-221-8889; liquidriot.com) and Sonny's (83 Exchange St.; 207-772-7774; sonnysportland.com) because the kitchens are as creative as the beer and cocktail lists.
10 P.M.
"If I'm flirting," says Cruger. "I'm headed to the Bearded Lady's Jewel Box (644 Congress St.; 207-747-5384) or maybe Portland Hunt & Alpine Club (75 Market St.; 207-747-4754; huntandalpineclub.com). Delicious and interesting drinks, and the lighting is dark, for an intimate vibe."
Harpswell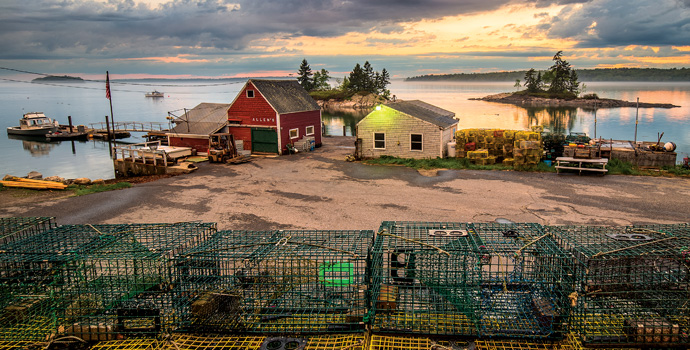 Population
4,815
Median household income
$66,290
Percent of families below poverty level
5.7
Median Age
57.2
It may be Maine's most scenic and unspoiled peninsula (or rather, one proper peninsula and several peninsul-ish islands ), but Harpswell's not just for tourists. With a property tax rate among the state's lowest, an innovative charter school in Harpswell Coastal Academy, and unparalleled access to woods and waters, Harpswell makes a great hometown. The demographic profile matches much of the coast, affluent and aging, but for all the second homes that speckle the trident-shaped community, there are still plenty of working lobsterboats bobbing in spots like Cundy's Harbor and Mackerel Cove. The grassy field in front of the latter is one of 14 scenic and semi-wild preserves protected by the Harpswell Heritage Land Trust, one of Maine's older and more active land conservation organizations. The Trust is much admired by Harpswellians for privileging not just preservation but also recreation — volunteers have built an impressive trail system across the properties, and the Trust partners with the Harpswell Recreation Department to release a handy annual guide to trails and water access.
Locals (and generations of visitors) breathed a sigh of relief in 2015 when new ownership took over Cook's Lobster & Ale House on Bailey Island. Overlooking the famed Cribstone Bridge (its cobwork construction lets the tide come through), Cook's went on the market in 2015, on the cusp of its 60th anniversary, and there was some question whether it would remain a restaurant. These days, you can grab a bar stool and some fried clams year-round and catch live music four nights a week in the summer, and the the legacy lobster shack's periodic community fundraisers (Cook's raised $10,000 for home heating assistance this winter) are emblematic of how salty, tight-knit Harpswell rolls.
Bangor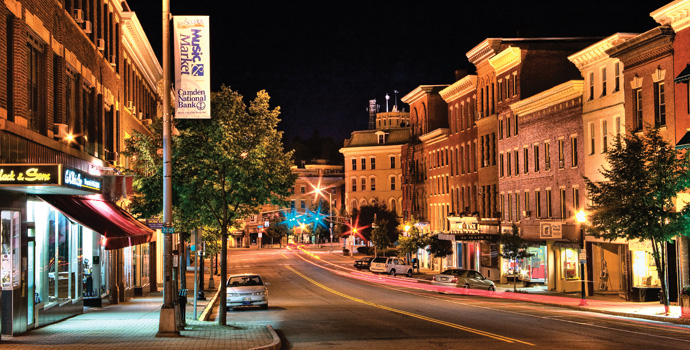 Population
32,695
Median household income
$35,674
Percent of families below poverty level
17.8
Median Age
35.4
"I've been creating different businesses and events in Bangor since shortly after I graduated from UMaine, and honestly, it's great," says Meg Shorette, 32, executive director of the nonprofit arts incubator Launchpad. "You can have a significant amount of influence on how you want your city to be."
That sense of self-determination is palpable around Bangor these days, where a downtown culture-and-commerce scene has sprung up in recent years to rival even Portland's. Lovely, historic, and once-vacant spaces like the former Merchant's Bank and Dakin Sporting Goods buildings have recently come back online as luxury lofts, restaurants, and retail spaces. And yet the downtown ethos is still more down-home than slick. At Central Street Farmhouse, Bangorites gather for classes (and supplies) to make their own beer, wine, cheese, and yogurt. Families duck in and out of the kiddie-friendly Maine Discovery Museum, and all ages assemble at Coespace for game nights, literary readings, mellow concerts, and the occasional pop-up store — it's a shared community space typical of downtown Bangor's we're-all-in-this-together vibe.
Meg Shorette's Perfect Bangor Day
8 A.M.
Caffeinate at West Market Square Artisan Coffeehouse (24 Broad St.; 207-992-2270). "It's a beautiful space with lots of natural sunlight and simple décor," Shorette says. "I love their featured brewer promotion, when they bring in new coffee roasters."
10 A.M.
Invigorating morning stroll on the 9 miles of trails at Bangor City Forest, a 15-minute drive from downtown.
1 P.M.
Downtown shopping. "Pro Libris is the best hole-in-the-wall bookstore," says bibliophile Shorette. "If you can't find something, the owner knows exactly what's in every pile."
5 P.M.
"I love everything about the new Orono Brewing Company draft room," Shorette says, "from the beer to the staff to the locals who hang there." 26 State St.; 207-866-4677; oronobrewing.com
7:30 P.M.
Dinner (and maybe pint #2) at Blaze (18 Broad St.; 207-922-2660; blazebangor.com), the New American hotspot with its impressive fleet of local taps.
Unity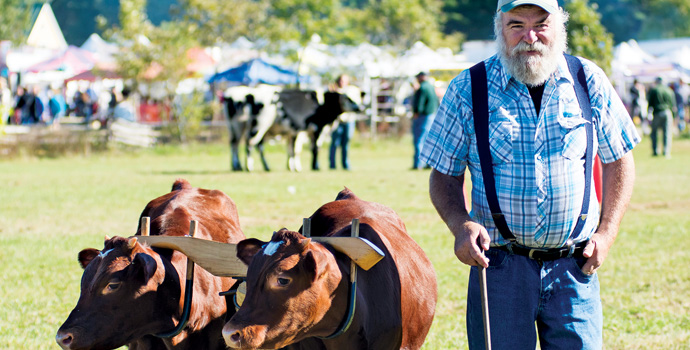 The service center of agrarian northern Waldo County, Unity owes its civic-minded, proactive, and self-reliant spirit in part to a blow delivered 50-odd years ago: the extension of I-95, which was looped around the farm town even though it sat on the most direct path between Augusta and Bangor. To make matters worse, the road was still under construction when Unity was mistakenly omitted from the official state highway map.
How did the people of Unity respond? Audaciously. They opened a college in a pair of abandoned chicken coops and put the town back on the map. Now enrolling some 700 students, Unity College has evolved into a nationally recognized school for environmental learning.
Population
2,463
Median household income
$39,659
Percent of families below poverty level
15.3
Median Age
27.4
"Some communities have a town/gown issue, but that isn't the case here," says longtime resident John Piotti, 56, a former state representative and current president of American Farmland Trust. "The college is part of the town's fabric. It's been the economic engine of the community. College students live in town, and many graduates have stayed."
Unity College's enterprising values have helped shape other institutions, like Unity Barn Raisers, a 22-year-old community organization that has renovated shuttered storefronts and built public parks and a gym. A Barn Raisers' tradition of prepping community suppers from locally grown foods started years before the word "locavore" was coined. The town's embrace of farming attracted the Maine Organic Farmers and Gardeners Association, which relocated its headquarters from Augusta to Unity in 1999; MOFGA's Common Ground Country Fair has since become one of Maine's biggest fall attractions. And the industrious culture and fertile farmland appealed to the 15–20 Amish families who've settled in the area over the last decade.
"Unity is a place of service-minded, if-we-want-something-done-then-let's-get-it-done kind of people, and they represent all ages and all political views," says Barn Raisers 31-year-old programs director Mary Leaming. "It's a rad place to live and work and be a part of."
Freeport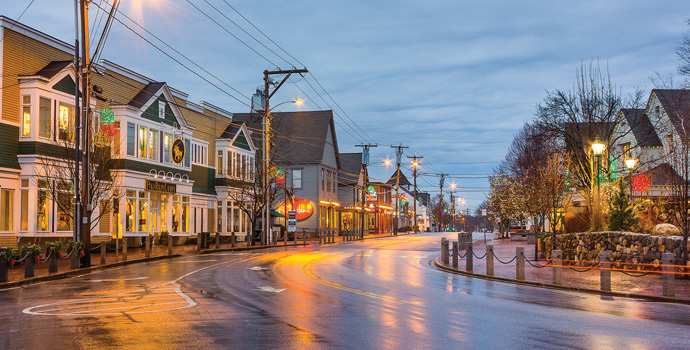 Stroll down Freeport and it's immediately clear which star sits at the center of the solar system. The bright, hot light of L.L.Bean still never goes out, as the store offers shopping hours (and stylish Maine fantasies for the rest of the world) 24/7/365. You wouldn't call Freeport a company town, certainly, but the outdoor retailer does host plenty of community events, from 4th of July fireworks to Santa's workshop, so prospective Freeport dwellers might do well to acquaint themselves with the campus.
Population
8,127
Median household income
$73,072
Percent of families below poverty level
3.9
Median Age
45.6
But while the downtown outlets garner attention from visitors, locals know there are plenty of sylvan spots where even "Bean's" feels a million miles away. "As a painter, I chase the light around Freeport," says 53-year-old artist Janice Moore. "I head out to Wolfe's Neck Farm to watch the moon come up, and the view to Lanes Island from Winslow Park is a great place to watch the sun go down."
Far from the retail district, scenic and neighborly South Freeport is a real-estate bargain compared to neighboring towns of Cumberland, Yarmouth, and Falmouth. In winter, when bargain-hunting tourists are sparser, the community comes together to celebrate local arts with FebFest; seemingly every venue in town pitches in to host art shows, local theater performances, open mics, and even a short film festival. And yes, the shopping district is never far away if you feel like paying a visit.
"It's always nice to run into my artist friends and hear what they're up to when I venture into town," Moore says. "I've learned a few times not to make a left turn downtown, but I've never felt crowded."