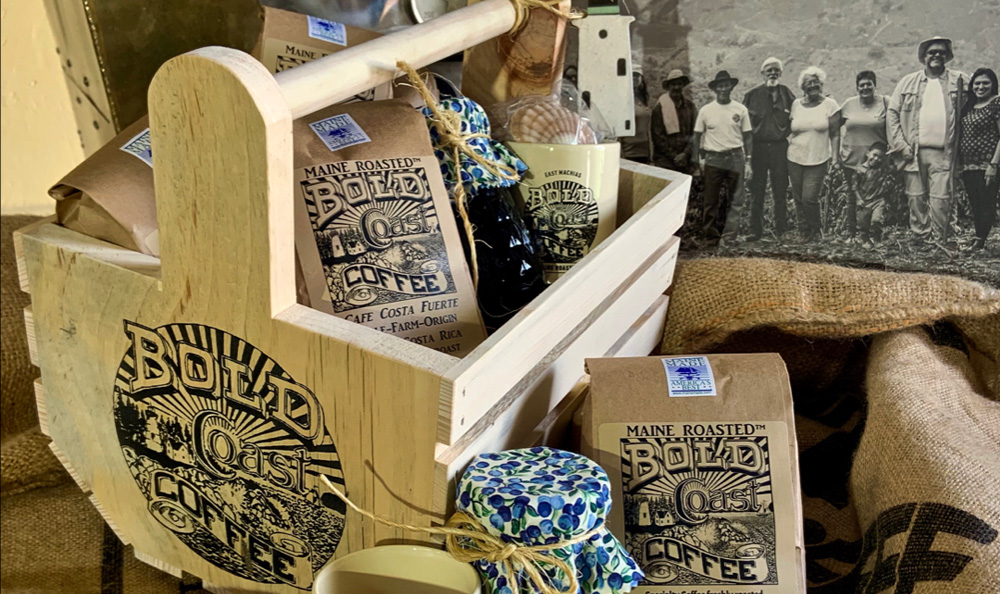 Let your holidays roll as the season's celebration starts with an authentic, handmade Downeast Clam Roller stuffed with Maine Roasted™ Bold Coast Coffee!
Featuring both our signature Farm-To-Cup Cafe Costa Fuerte and our official Down East Magazine Roast, we've added a stocking's full of artisanal treats crafted right here on the Bold Coast of Maine including Monica's Chocolates, an ornament featuring our signature Little River Lighthouse from potter Betty Jean Wilcox, some local Maine Wild Blueberry jams and jellies, and a pair of vintage diner mugs.
Bold Coast Coffee, the only specialty coffee roaster on the rugged Bold Coast of Downeast Maine, features responsibly sourced, rare and affordable beans from the finest Central and South American farms and co-ops, including our very own farm, Cafe Costa Fuerte in the famed Tarrazu region of Costa Rica.
Established in 2014, our coffee is small-batch roasted using a classic, analog Diedrich roaster, then cooled by North Atlantic coastal breezes. Highlighting the independent, hardy, and colorful history that embodies the true spirit of coastal Maine, our signature package features Little River Lighthouse, a centuries-old beacon of bold discovery.
Bold Coast Coffee offers Farm To Cup, single-origin, organic, fair-trade, decaf, espresso, and limited edition varieties including our exclusive Down East Magazine Roast. We support The Bicycle Coalition of Maine, donating $1 from every pound of BikeMaine Commemorative Roasts sold since 2016.
From Our Farm To Your Cup, Boldly Share The Season!Bold Coast Coffee. Maine Roasted.™